International consultation on workers' health coverage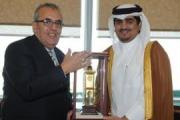 Place: FAO Headquarters, Rome, Italy
Date: 19–21 November 2014
The aim of ICN2 is to create consensus on how to address major nutrition challenges—including undernutrition, micronutrient deficiencies and overweight—with a view to achieving the global nutrition targets by 2025 set by the World Health Assembly.
Key goals
A key goal is to achieve coherence between food supply and public health policies, as they both contribute to food and nutrition security. Participants will also examine the best ways of scaling up proven interventions for tackling all forms of malnutrition.
ICN2 will identify public policy priorities at the national and global levels. It will be the first high-level intergovernmental conference on nutrition since the first International Conference on Nutrition was organized by FAO and WHO in 1992.
Participants will include experts from food and agriculture, health and other sectors as well as United Nations agencies and other intergovernmental organizations, civil society, researchers, the private sector and consumer associations.
ICN2 is jointly organized by the Food and Agriculture Organization and WHO, in collaboration with:
the World Food Programme (WFP)
the International Fund for Agriculture Development (IFAD)
the United Nations Children's Fund (UNICEF)
the United Nations Educational, Scientific and Cultural Organization (UNESCO)
the World Bank
the World Trade Organization (WTO)
the Consultative Group on International Agricultural Research (CGIAR)
the International Food Policy Research Institute (IFPRI)
the United Nations Standing Committee on Nutrition (SCN)
the UN Secretary-General's High Level Task Force on Global Food Security (HLTF).